Fri, 26 February 2016
Episode 48: Video Games with Hadas
On Episode 48 of the Joy Sandwich podcast, Jessica and Non sit down with fellow podcaster (check out Common Room!) and video game enthusiast Hadas (@HADSTERIFIC) to talk about the joy of video games! We jump into video games from our childhood, the culture of gaming, the anxiety of playing games, and our three favorite recent video games!

What are your recent video game joys? What games brought you joy as a kid? We'd love to hear from you! Tweet us @JoySandwich or let us know on Facebook at Facebook.com/JoySandwichPodcast! Thanks for listening!
And as always, embrace your joy!
Show Notes
---
Fri, 12 February 2016
Episode 047: Making Things with David Huntsberger
On Episode 47 of the Joy Sandwich podcast, Jessica and Non chat with comedian, illustrator, Space Cave podcast creator (check out the introspective and science-joy Space Cave podcast), and genuinely lovely human David Huntsberger (or "Tickle Dave")! On today's show, we discuss the joy of Making Things! Plus, we talk about creative integrity, making things in a digital/social media-heavy world, intangible vs tangible effort, the joy of a finished product, and other joyful stuff. Thanks for listening!
And as always, embrace your joy!
--- :D
One-Headed Beast DVD Giveaway!
Speaking of joyful stuff, we're giving away two (2) copies of David's amazing One-Headed Beast DVD, which features David's stand-up comedy and a collaborative animation from about 20 animators! All you have to do to enter is follow us @joysandwich on Twitter and RT the giveaway tweet(s) (special points if you leave us a joyful rating/review in iTunes!). Simple!
US only. Must be 18 years of age. We'll ship the DVD to you, but cannot guarantee the condition on its arrival. But we trust that the USPS will be joyful guardians, so no fret! :D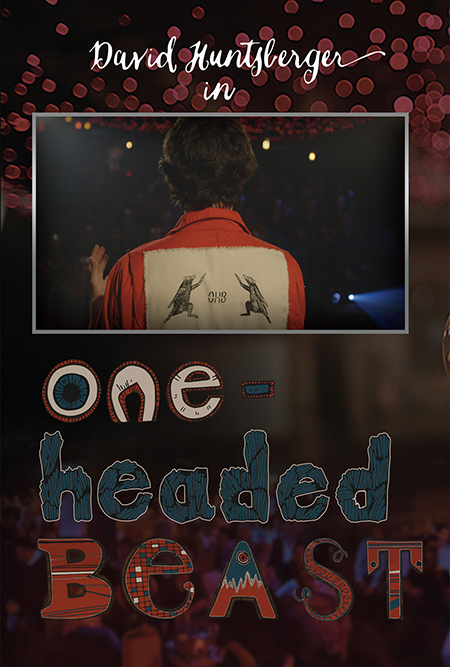 Show Notes:
BOOKS/TV: So You've Been Publicly Shamed by Jon Ronson, Sirens on Netflix
DAVID HUNTSBERGER: For all things David Huntsberger, check out davidhuntsberger.com! And you should definitely subscribe to Space Cave, because it's cool and fun. Also The Junk Show! If you're in the Southern California area, go see David collaborate creatively with cool people! Next one is February 14! And guess what? We'll be there!

Joyfully yours,
Jessica & Non
Co-hosts/co-creators of Joy Sandwich

---
Sun, 31 January 2016
Episode 046: Cartooning with Grant Snider
On Episode 46 of the Joy Sandwich podcast, Jessica and Non invite cartoonist Grant Snider into the joy den to discuss Cartooning! Grant is an amazing cartoonist! We chat with him about the process of cartooning, the balancing act between his creative efforts and fatherhood/orthodontics, what inspires him to keep producing wonderful stuff on a consistent basis, crowdfunding in the creative world, and so much more! If you're into creative things and thought-provoking cartoons, you'll find joy in this episode! Thanks to Grant for being on the show, and thanks to you for listening!
And as always, embrace your joy!
Show Notes:
---
Mon, 18 January 2016
Episode 045: Favorite Things of 2015
On Episode 45 of the Joy Sandwich podcast, Non and Jessica think back on 2015 and discuss some of their most joyful memories! From their favorite television shows and books to their most memorable trips! Don't miss out on their Top 5 Movies of 2015 lists too!
Show Notes:
The Revenant mini-review: "way too many sky shots"
Spider-Woman by Dennis Hopeless: "amazing"
The Deadly Class by Rick Remender: "Reagan era hitkids"
Favorite things: comics, books, tv, Top 5 movies, camping, trips!
Your Favorite things: We have your clips! Thanks to Mindy (@HolaMindy), John (@JohnJackSlick), Vern (@VideoVangaurd), and JD (@RealJDDuran) for sending in your 2015 joys! You guys are the best!
Thanks so much for listening!
And as always, embrace your joy!
- Jessica and Non
---
Sun, 3 January 2016
Episode 044: Drinking with Jake
Glug glug! On Episode 44 of the Joy Sandwich podcast, Non and Jessica invite their dear pal and whiskey aficionado Jake to discuss DRINKING! They get into some fun and embarassing drinking stories by playing a drinking game (found on BuzzFeed, #7). Jake gets silly, Jessica tells us of her sexcapades, and Non mixes up real life with fiction! The answer to your question about whether or not you can play along with us as we make fools of ourselves is a most joyful yes! Thank you to Jake for joining us in joy central, and thanks to you wonderful joy mongers for listening!
You can follow the show on Twitter @joysandwich and on Facebook.com/joysandwichpodcast! You can follow Jessica on Twitter @readschmead, Non @subjectplusverb, and Jake, our guest, @FakeBookCovers!
And as always, embrace your joy!
Show Notes
What We're Watching: Jessica Jones, The Hateful Eight, The Flash
What We're Reading: the terrifying Bedlam
Drinking Games: Play here!
---